Archive for the 'Whats Up' Category
September 2013 Stargazers Night Sky Guide
Your guide to constellations, deep-sky objects, planets and events. Tonight's Sky – Highlights of the September Sky Read the rest of this entry »
Night Sky Guide July 2013
Your guide to constellations, deep-sky objects, planets and events, Tonight's Sky, Highlights of the July Sky
Constellations, deep-sky objects, planets and events, Tonight's Sky
Highlights of the April Sky Transcript:
Evening Planets
In early April, four planets grace the sky at nightfall.
In the west, Jupiter hangs low on the horizon. Around mid-month, the planet disappears into the sunset.
Venus blazes just above Jupiter in the west. Use a telescope to see its crescent phase.
In the south, Mars is already climbing high. It will remain visible into the early morning.
Saturn will shine low in the east in the evening but climb higher during the night. On April 15th, Saturn reaches opposition, meaning it is opposite the Sun in Earth's sky. It is also closer to Earth than it'll be the rest of the year, making it
appear slightly bigger and brighter.
Constellations and Deep-Sky Objects
Late in the evening, high in the northern sky lies the Great Bear, Ursa Major.
The constellation of Ursa Major contains the well-known star pattern, the Big Dipper. It resembles a large drinking cup with a handle.
The two stars that make up the front side of the cup are called "pointer stars" because they point toward the star Polaris, also known as the North Star. The Big Dipper overflows with interesting stars and deep-sky objects.
The stars Mizar and Alcor make up a double-star system that can be seenwithout a telescope. In ancient times, when Mizar and Alcor were even closer together, they were used as a test of keen eyesight.
M81 and M82 are a magnificent pair of galaxies, showpieces of the northern night sky. M82 has an irregular shape, bestowed by a collision with its larger neighbor, M81.
Turning to the south, we see Leo, the Lion, heralding the coming of spring. In Greek mythology, Leo is the great beast slain by Hercules.
The star Denebola, which in Arabic means "tail," represents exactly that. The bright star Regulus is the heart of the Lion.
Leo has several galaxies in his belly. M65, M66, and NGC 3628 make up the "Leo Triplet," a lovely grouping of galaxies easily seen with a telescope. Close by is another group. M95 and M96 are large spiral galaxies.
Between the Big Dipper and the head of Leo are three pairs of bright stars known to ancient Arab astronomers as "The Three Leaps of the Gazelle."
Events
The Lyrid meteor shower will be best seen in the early morning hours of April 22nd. Under a dark sky, you can expect to see up to 20 bright meteors per hour.
The night sky is always a celestial showcase. Explore its wonders from your own backyard.
Credits:
Produced by the Space Telescope Science Institute, Office of Public Outreach
Starfield images created with Stellarium
Mythological constellation forms from Firmamentum Sobiescianum sive
Uranographia by Johannes Hevelius, courtesy of the United States Naval Observatory
Jupiter image courtesy of Todd Gross
Venus image courtesy of Mario Weigand
Mars image courtesy of Matt Wedel
Saturn image courtesy of John Endreson
M81 and M82 image courtesy of the Digitized Sky Survey, AURA
Leo Triplet image courtesy of REU program/NOAO/AURA/NSF
M95 and M96 image courtesy of the Digitized Sky Survey, AURA
Narrated by Nancy Calo
Music written by Jonn Serrie
Production: Lucy Albert, Greg Bacon, John Bintz, John Godfrey, and Vanessa Thomas
Tonight, just after sunset, Venus, Jupiter and a thin crescent Moon will line up and form a close thin triangle in the evening sky.
If you have clear skies, this spectacle will almost be impossible to miss after the Sun has set.
See the below diagram for positions of  the crescent moon, Venus and Jupiter – They will be an awesome sight!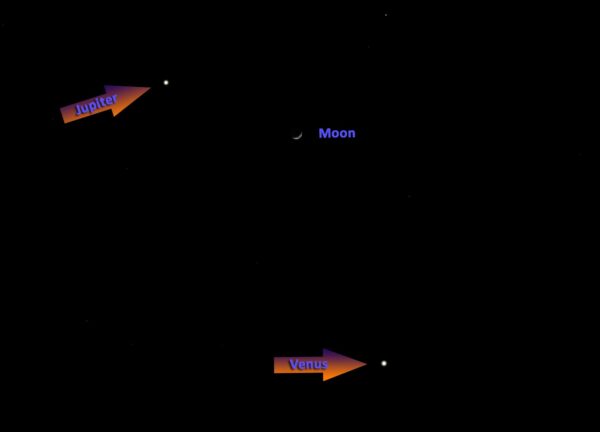 Originally based on Dark Sky Diary by Steve Owens www.twitter.com/darkskyman

The first meteor shower of 2012 is the Quadrantids, the peak of which falls on the night of the 03/04 January 2012. The Quadrantids shower has one of the highest predicted hourly rates of all meteor showers, comparable to the two great annual showers, the Perseids and the Geminids, occurring in August and December respectively. However unlike the Perseids and Geminids, the Quadrantids peak is very narrow, occurring over just a few short hours.
The predicted Zenith Hourly Rate (see my previous post about ZHR and what it actually means here) for the Quadrantids is around 120. The narrow peak is predicted to occur some time between 2100 UT on 3 January and 0700 UT on 4 January 2011, however the radiant of the shower – the now-defunct constellation Quadrans Muralis – is very low in the evening hours, rising higher towards dawn, and so the best viewing times are later in this run, just before dawn. Read the rest of this entry »
A classic summer astronomical standby may be in trouble this year, but that shouldn't stop you from looking. That's right, we're talking about the Perseids, that "old faithful" of meteor showers which sees northern hemisphere residents getting bundled up to camp out under the summer stars every mid-August.
Some of our earliest astronomical memories come from watching this very shower under the dark northern Maine skies of our 1970's childhood… yes, the Perseids are public crowd-pleaser and even an occasional Yahoo-trending fave that can even knock the likes of Brittany & friends down to the number 2 slot for a 12 hour period… so, what's this news of the Perseids being "troubled?" They haven't been threatened by irate pop stars, have they?
Unfortunately, this year's menace is a more inviolate force; the Full Moon. Yes, this year's Perseid meteor shower peaks the morning of August 13th, mere hours before the Moon reaches Full status on the same day at 14:57EDT/18:57UTC. Instead of the usual respectable zenithal hourly rate (ZHR) of around 100 meteors per hour, observers can only expect to see a paltry few of the very brightest fireballs…
But all is not lost. With a little planning, a few factors can work in YOUR favor this year. Keep in mind that the Perseids have a very broad peak, and the radiant near the head of the constellation Perseus lies above the horizon all night for observers north of 32° latitude. Plus, this month's Full Moon (known as a Sturgeon Moon) has a southerly declination of about -11° degrees; your best bet for catching Perseids this year may lie with watching several mornings prior, in the window of time between the setting of the waxing gibbous Moon and the beginning of local twilight… and yes, you CAN still watch a meteor shower during a Full Moon and see an occasional Perseid.
Generally speaking, the farther north in latitude you are located, the more likely you'll be able to take advantage of these twin factors. Finding as dark a site as possible and putting something physically between yourself and the bright Moon is the key. A building or a hill makes an excellent "Moon-block." Perseids are swift movers with an atmospheric entry velocity of about 61 km/sec.
The meteors are tiny grain-like debris shed by the comet Swift-Tuttle, and the shower occurs as the Earth intersects the path of the comet every mid-August. The Perseids are also famously known as the "Tears of Saint Lawrence" who was martyred on August 10th, and are probably the most well known of all meteor showers because of their annual dependability and their timely occurrence with the northern hemisphere summer vacation and holiday season.
Historic ZHR rates have always hovered around 60, but the past several years have seen an enhanced ZHR of +100. This shower is also infamous for sparking "Meteor Shower of the Millennium!" headlines annually, Although I have yet to see the same occur this year… a shower that MAY be a contender for said headline is the Giacobinids (or do you say Draconid?) meteors in early October 2011, an obscure shower that may dazzle this year… more on this to come in October.
Wonder what that the above graphic has to do with anything astronomical? You are looking at what is known as a nomogram, a graphical device that is a neat way to show interrelationships between factors. (Hey, how do you spend your weekend?) The graphic above was adapted from a nomogram featured in the November 2002 issue of Sky & Telescope; it shows the interrelationship between the two biggest factors that affect the zenithal hourly rate; namely, the radiant's elevation above the horizon, and the limiting magnitude of your sky. (For a way "math-y-ier" dissertation on nomograms and the ZHR, click here).
This device will be your indispensible friend and secret weapon as you plot your meteor observing adventures for this or any shower. The ZHR is a theoretical limit; it assumes that you have absolutely perfect skies with a radiant directly overhead and an unwavering 360°degree view. Unrealistic, right? Well, it's something to strive for. As you can see after playing around with the graphic a bit, the biggest killer of how many meteors you'll see is how dark a sky you are under.
Even when the Perseid radiant is half way (45° degrees) in altitude towards the zenith, a limiting magnitude of +4 (as is typical around a Full Moon) means you'll see roughly 10% of the zenithal hourly rate, i.e. 6-10 meteors per hour instead of 60-100. Yes, light pollution, both natural and manmade, is a real meteor shower buzz-kill. And keep in mind, other factors can conspire to lower that rate even further, such as obstructions on the horizon and the fact that a sole observer can only cover a limited swath of the sky visually. Still, the sight of a well placed fireball can be unforgettable and just plain pure magic to witness.
Do get out there on days leading up to this week's Perseid meteors, and be sure to follow and report the magic via #meteorwatch on Twitter; they're worth setting an early alarm for!
David Dickinsen
Thursday 11th to Sunday 14th of August 2011
From Thursday 11th to Saturday 13th of August 2011 @VirtualAstro on Twitter with the help of The National Trust, Universe Today, Royal Astronomical Society and many more, will be holding a Twitter Meteorwatch for the Perseid Meteor Shower.
Everyone is welcome to join in, whether they are an astronomer, have a slight interest in the night sky or just wonder?
As well as looking up, enjoying the night sky with us and seeing meteors, maybe for the first time? You will have the opportunity to contribute for fun with images and online, or to Science if you wish, by tweeting and seeing your results on a map, or by submitting Observing Forms if you are a more serious observer.
This event follows on from the popular Twitter Meteorwatch held in August and December of 2009 and 2010 "Meteorwatch 2009"
Use the hash tag: #Meteorwatch and get involved, ask questions, do some science, follow the event and enjoy the wonders of the night sky with us. Images and other information will be tweeted as it happens. Live!
Join in on Twitter, Facebook and Google+
The highlight of the summer meteor showers: The Perseids reach maximum around the 12th/ 13th of August and may put on a display of approximately 80 to 100 meteors per hour under ideal viewing conditions.
Conditions this year aren't ideal due to there being a full moon, but the brighter meteors will be seen. Let's hope the skies stay clear.
Perseid meteors are often bright with persistent trails which can linger for a while after the meteor has burned up. Further information on the Perseid meteor shower and how to view it, can be found here.
While you are looking for meteors, there will be other objects to look out for such as the Planet Jupiter late in the evening, the Milky Way, Summer Triangle, manmade Satellites and more.
The Twitter Meteorwatch will start at 21.00 BST on the 11th of August and will continue through to the evening of the 13th. Amateur and professional astronomers and stargazers from the US and other countries are invited to join in and take over from the UK, when the sun comes up here, helping make the event run continuously and be truly international.
Watch the awesome new trailer here….
This evening I decided to try some iPhone astrophotography. This blog post will let you see how I got on, and give you the info you need to get started yourself.
While the iPhone 4 camera is far from ideal for astrophotography (the sensor is small compared with a DSLR; in fact it's not even as good as most point and shoot cameras) it does have one distinct advantage – it's usually very much to hand, just in my pocket in fact.
There are two kinds of astrophotography you can do with an iPhone: with and without a telescope. The former is called afocal astrophotography, but it is the latter that I tried out tonight: just using the iPhone camera, some extra hardware, a 59p app, and a clear sky.
Afocal Astrophotography. Simply hold the camera to the eyepiece of a telescope (or binoculars) and snap a picture of whatever is in the field of view. For this you can just use the standard camera app on the phone to snap a picture, and it'll use software to ensure that the image is exposed correctly (although this might not always work). I've tried this once before, using the Moon as my target, with decent enough results:
You can also buy several apps that claim to allow you to take longer exposures, even letting you use a bulb setting (this isn't actually possible with the iPhone shutter hardware – each of these apps is actually using a clever software work around, but you're not getting a true 60 second exposure when you set your "shutter speed' for 60 seconds).
The apps that I use are:
Slow Shutter Cam: has shutter speeds of 0.5, 1, 2, 4, 8, 15? and a B (bulb) setting, plus a crucial self timer delay to prevent wobble when pushing the "button" to take the shot (£0.59 on iTunes App Store)
Magic Shutter: has shutter speeds of 1, 2, 4, 8, 15, 30 and 60? and a B (bulb) setting, but no self timer (£1.79 on iTunes App Store)
Both of these apps have a variety of software setting to allow you to get the best picture; tonight I used Magic Shutter with a 60s shutter speed.
(These apps might allow you to take better images while the camera is mounted to a telescope, but I haven't tried this yet. Watch this space for test of this later in the year.)
Afocal Astrophotography Hardware
The main obstacle to taking long exposure shots with the iPhone (apart from the fact that the hardware won't actually let you!) is that you need to make sure that the iPhone doesn't move at all during the duration of the exposure, so holding it in place with your hand isn't an option. Luckily there's a great gadget available from a company call Magnilux. The device is called the Magnilux MX-1 Telescope Adaptor, which allows you to attach your iPhone to any telescope eyepiece. It also doubles as a tripod adaptor.
Astrophotography Without a Telescope
Tonight I didn't connect my iPhone to my telescope since my target, the International Space Station (ISS), moves so quickly and travels across such a large part of the sky that you need as wide a field as possible to catch it.
To capture the ISS you need a long exposure (use Magic Shutter app – see above). The pass tonight lasted 4'19?, and traveled 90° through the sky (from 254° WSW to 164° SSE). The iPhone 4 camera field of view is only 60.8° so I couldn't capture the whole pass. Instead I decided to try to capture a 60s exposure as the ISS rose to its highest and brightest, at 206° (SSW).
With a 60? exposure, of course, I had to have my iPhone mounted to a tripod. I could have used the Magnilux MX-1 Adaptor set up for tripod mode (see above) but instead I opted to use my new Kungl iPhone case with built in tripod thread, which I attached directly to my tripod.
This held the iPhone still, and using the Magic Shutter app set to 60? exposure I managed to get this image:
Far from ideal, but not bad given (a) it was my first attempt, (b) I had one chance to take the image before the ISS faded from view, (c) the sky was very bright (this was taken at 2344 on 23 June 2011, just after midsummer, with the sky just out of civil twilight), (d)  cars kept driving past (note the light art in the foreground!).
Once the sky darkens again later in the year I hope to test this set up under a truly dark sky to see whether it can pick up sharp star images. I suspect that might be tricky!
If anyone else has tried iPhone Astrophotography please let me know in the comments.