Archive for the 'Stargazing' Category
Bright Nova Appears in Delphinus
By Steve Owens

@Darkskyman

on twitter. See the original article

here
Last night a bright nova was discovered in the constellation of Delphinus. It's bright by nova standards: you normally need telescopes to see novae but this can can be seen with the naked eye – just! – and is easily spottable through binoculars. At the time of writing it has been observed at magnitude 6.3 by Koichi Itagaki, of Yamagata, Japan, and at magnitude 6.0 by Patrick Schmeer, of Bischmisheim, Germany. This means that under dark skies, free from light pollution, with good seeing conditions and good eyesight, it's within the limit of human eyesight. If you're in a city though, or if your eyesight isn't perfect, you'll need binoculars. Read the rest of this entry »
Supermoon LIVE HD Coverage
Slooh Space Camera to Broadcast Live Feed of the
Full Perigee "Supermoon" in HD
THE SKY WILL KICK OFF SUMMER WITH 2013's BIGGEST FULL MOON.

On June 23rd, 2013, the full Moon will be at its closest point to Earth of the entire year, known to astronomers as a perigee-syzygy Moon, and will appear about 12% larger in diameter than when it's at the other side of its orbit, as it was on June 9th.  Slooh Space Camera will cover the supermoon phenomenon on Sunday, June 23rd,  live on Slooh.com, free to the public,  starting at 6 PM PDT / 9 PM PM EDT / 01 UTC (6/24) – International times here: http://goo.gl/DXoo7 – viewers can watch live on their PC/MAC/Mobile device or by downloading the free Slooh iPad app in the iTunes store and touching the broadcast icon. Read the rest of this entry »
Night Sky Guide For June 2013
Your guide to constellations, deep-sky objects, planets and events, Tonight's Sky,
Highlights of the June Sky Read the rest of this entry »
Stargazing for Dummies – One of the best books to buy!
If you have a passing interest in stargazing, are just starting out in astronomy, or are already a seasoned astronomer, then Stargazing for Dummies is the book for you. Read the rest of this entry »
Professor Brian Cox and Dara O Briain host three nights of stargazing and discussion, live from Jodrell Bank. Featuring guest experts and link-ups to observatories around the world. Credit: BBC[/caption]
Stargazing LIVE returns for a third three-night series from 8-10 January 2013 to encourage everyone – from the complete beginner to the enthusiastic amateur – to make the most of the night sky.
Tonight, just after sunset, Venus, Jupiter and a thin crescent Moon will line up and form a close thin triangle in the evening sky.
If you have clear skies, this spectacle will almost be impossible to miss after the Sun has set.
See the below diagram for positions of  the crescent moon, Venus and Jupiter – They will be an awesome sight!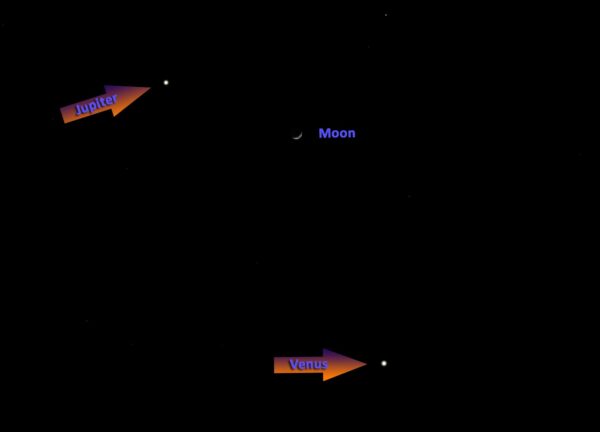 Beginners Guide To Aurora
Here is a very quick beginners guide to explaining aurora
Aurora = The Northern (or Southern) lights/ Aurora Borealis/ Australis
Usually seen near the poles of the Earth, but can be seen further South in the UK or USA.
So how and where does it come from?
"Coronal Mass Ejection" = A load of solar material hurled out of the Sun. A big one can contain billions of tons of "plasma".
Plasma hits Earth's "magnetosphere" causing "geomagnetic storms" = Aurora, also known as the Northern or Southern lights.
Geomagnetic storms are measured using a scale called the "Planetary Kp index" ranging from 1 to 9. 1 being low and 9 being a very heavy storm.
The higher the Kp index the higher the likelihood of Aurora and the further South it can be seen. 5 = Scotland 8+ Southern England.
Geomagnetic storms and aurora are very unpredictable and forecasts can be very vague, we don't know the intensity or where the aurora can be seen from until it hits.
Here is a link to NOAA Space Weather Scales
To watch the aurora, you only need your eyes, just like watching meteors or the International Space Station. Look North and low down on the horizon, it may be faint at first.