50 Awesome Space Christmas Presents – Helpful Gift Ideas for Kids.
Christmas Presents: Tis the season to be jolly and Christmas presents are foremost on our minds. Therefore the Meteorwatch team have put together a fine collection of children's Christmas presents which are out of this world. Instead of the usual guides and articles, we have simply put some space-related gift ideas together for you – It's Christmas!  There are Christmas presents to please the tiniest Space Cadets and gifts to impress the more grown up Space Rangers. It can be hard work thinking about what Christmas presents to buy friends and loved ones. So we made this gift list so you don't have too.
There is also a full list of Kids Gift Ideas on amazon here. It should help find that perfect gift or stocking filler.
Pour a glass of festive cheer and enjoy the list of kids Christmas presents here:
Please read on for some great ideas for Kids Christmas presents. There are no spammy pop-ups, spammy articles, or the need to click through endless pages. Just scroll down the list effortlessly.
Click on the links or images for more info. Images and descriptions credit: Amazon.co.uk
Astronomy for Kids: How to Explore Outer Space with Binoculars, a Telescope, or Just Your Eyes!
"No matter how many times you've orbited the Sun, Astronomy for Kids is really for kids of all ages. Dr. Betts shows you how to become an astronomer–an observer of the stars. With this book, you can know the cosmos and your place within it. Read on, walk out, and look up!"–Bill Nye, science educator, author, and CEO of The Planetary Society
One of the coolest things about outer space is that anyone can explore it. All you have to do is go outside and look up! Using plain sight, binoculars, or a small telescope, Astronomy for Kids shows stargazers how easy it is to explore space, just by stepping outside.
With this book as their guide to the northern hemisphere, kids will learn to find and name amazing objects in the night sky. Fully illustrated with fun facts throughout, kids can point out sights to friends and family, saying things like, "that's Jupiter," and, "those stars are the constellation Cygnus the Swan," and maybe even, "that group of stars doesn't have a name but I think it looks like my dog getting belly rubs."
LEGO UK 31066 "Space Shuttle Explorer" Construction Toy
Blast off to the moon aboard the space shuttle explorer, featuring a minifigure cockpit, large engines and an authentic white, black and grey colour scheme. Perform daring space walks with the astronaut jetpack, open the payload bay, fold out the satellite wings and use the robotic arm to launch it into orbit and when you finally land on the moon, rebuild the shuttle to create either a futuristic moon station where you can experiment with growing potatoes or a cool space rover for scrambling over the lunar surface.
Learning Resources Inflatable Solar System Set
Turn your young astronaut's bedroom into an intergalactic experience with these jumbo inflatable planets! The perfect set to decorate your little astronaut's bedroom! Nine colourful planets, sun and moon inflate easily to turn any room into an intergalactic experience. Set includes foot pump, hang tags, repair kit and Activity Guide. Measurements are Sun 58cm, Jupiter 36cm, Saturn 28cm (with rings), Neptune 23cm, Uranus 23cm, Venus 19cm, Earth 19cm, Mars 15cm, Mercury 15cm, Pluto 13cm, Moon 13cm.
Meteorite Space Science Kit – Dig Up a Real Meteorite and Tektite
A space-themed digging brick containing a real meteorite and tektite specimen
An adventure guide with educational material written by teachers
An activity booklet with 10 exciting challenges to solve
Archeological digging tool, brush and magnifying glass
This kit is the perfect family activity, birthday party event, or homeschool lesson. Regardless of age, boys and girls love digging up real pieces of space! When the dust has settled, dive into the activity booklet for even more fun and enjoyment. If you're looking for an educational hands-on activity, award-winning quality, and incredible value then look no further!
Get your Meteorite Space Science Kit today!
Le Toy Van Space Rocket Assortment 3 2 1 Lift Off with these chunky painted wooden rockets. With a selection of 3 designs. Coming in at over 16cm, these can fire the imagination into space. One supplied.
Take to the stars with this Safari Space Toob! This set includes 2 astronauts, Private Ham (the First Space Chimp), Saturn V Rocket, Gemini Capsule, Apollo Spacecraft, Lunar Rover, a Space Shuttle, Hubble Space Telescope, and satellite. Experience America's space program, including the early days of the Gemini project, the Apollo missions, and with your imagination, any future expeditions! These individually designed and precisely hand painted figurines are wonderful for display in a diorama, as additions to your model collection, for educational purposes, or just for old fashioned creative fun. Did you know that most space shuttles, like the ones in this Toob, are painted black and white for partial heat and radiation regulation? Discover more awesome facts and features inside our Space Toob, which contains 10 figurines that range from 1.25 to 3.75 inches tall while the Toob itself measures 1.5 inches long, 1.5 inches wide, and 12.8 inches tall, a bit larger than the size of a standard American ruler. The first human space flight took place on April 21st 1961 in Russia as part of the Vostok program. However, it wasn't until 1969 when humans first landed on the closest natural satellite, the Moon, in the spacecraft Apollo 11 as part of the Apollo program. You can be a part of both history and the future with these amazing figurines. Each model represents a pivotal moment in our always developing desire to fly beyond the stars.
Doll by Lottie LT052 Stargazer | Dolls – Clothes – Accessories – Toy Sets – Collectible | Inspired by real kids!7 Inch 18 cm Doll With Red Hair And Blue Eyes
Doll dressed in dark blue velvet bomber jacket, cerise-coloured dungarees, long sleeve t-shirt with pale blue arms, spotty scarf, brown hat, sturdy brown boots and comes with telescope and tripod, solar system collector cards and a Notable women in astronomy additional sheet. Hair: Red; Eyes: Blue.
Turn on your rocket – 3, 2, 1 launch! Projector features 24 amazing images of planets, astronauts and spacecraft on three changeable discs. Projected images are up to one metre wide. Flick the switch and your rocket blasts into room guard mode. A motion sensor triggers lights and launch sounds with each unwanted visitor. Fun flight sounds when rocket is in play mode. Cool launch pad stands on your desk or hangs on your wall. Secret code unlocks fascinating online space info. Includes bonus Launch Zone door sticker.
Soar through the skies and into space on your very own space mission with Ronnie Rocket from WOW Toys.
Pull Ronnie's cord to start the countdown and watch as it goes down from 5 to 1 whilst Ronnie shudders and shakes as he gets ready for take-off. Be sure to push the red button with the astronaut's hand to open to cockpit so he can get inside and get himself ready for his next dangerous mission.
Ronnie Rocket is a 2 piece set including 1 motorised rocket and 1 figure.
Storklings spaceman plush soft toy. Perfect space toy for space, astronaut and rocket mad kids. Buy me because I am cute. Astronauts, rockets and space fans only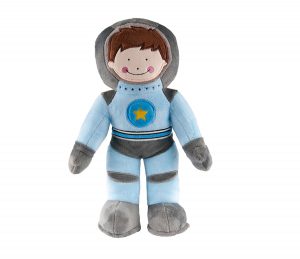 Looking for a soft toy that's not only ridiculously cute (look at that face!), but has a myriad of positive benefits for kids. No instructions, no batteries, no screens, just pure imagination. Then Storklings soft toy characters are for you! You definitely, definitely need to buy one. Our spaceman character is by far one of the most popular in our range, appealing to space, rockets and astronaut geeks of all ages, he quite often finds himself sold out! Check out our Knight aswell! Storklings are a back to basics soft toy, encouraging of independent, imaginative play and requires nothing but a few lasers and a child's imagination (ok no lasers). Perfect play mate for reading space, planets and solar system books with. Kids love Storklings!
The Saturn V (pronounced "Saturn Five") was a multistage liquid-fuel expendable rocket used by NASA's Apollo and Skylab programs from 1967 until 1973. In total, NASA launched thirteen Saturn V rockets with no loss of payload. It remains the largest and most powerful launch vehicle ever brought to operational status from a height, weight and payload standpoint.
The largest production model of the Saturn family of rockets, the Saturn V was designed under the direction of Wernher von Braun at the Marshall Space Flight Center in Huntsville, Alabama, with Boeing, North American Aviation, Douglas Aircraft Company, and IBM as the lead contractors. Von Braun's design was based in part on his work on the "Aggregate" series of rockets, especially the A-10, A-11, and A12 in Germany during World War II. The three stages of the Saturn V were developed by various NASA contractors, but following a sequence of mergers and takeovers all of them are now owned by Boeing.
Build, blast and lift off with this fun-filled game based on the bestselling digital app Angry Birds in Space. The egg-stealing pigs are out of this world and the Angry Birds have swooped in to exact their revenge. Players build structures indicated on the mission cards before their opponents launch an Angry Bird to knock them–and the pigs–down.
Melissa & Doug Astronaut Role Play Costume Set (5 pcs) – Jumpsuit, Helmet, Gloves, Name Tag
Includes one-piece suit, shiny helmet, stretchy silver gloves, and reusable nametag.
This book is suitable for ages 8 to 10 years. Max gets ready to go on the first human mission to Mars. This time, his mission is to help the human crew in the search for life on Mars, while providing the comfort that only a dog can offer on a journey that lasts more than two years. With sidebars on science lessons, this picture book also has a take-home message about the beauty and fragility of planet Earth.
This delightful Kidorable Space Hero Children's Umbrella would brighten any Child's day! It has a blue canopy with an Astronaut and a rocket on the front. There is also the moon's surface, UFO, stars and a robot around the canopy. It has the nose of the rocket standing out of the top of the umbrella. The green handle is shaped like a smiling Alien. There is a black cord attached to the bottom of the handle, to make it easier for Children to carry. The umbrellas are appropriately child-sized, making it easy for them to use. 100% nylon canopy. 24in/61cm long. 27in/68.5cm diameter when open. Recommended for Children aged 3 to 6 years.
Learning Resources Geosafari Motorised Solar System. Encourage children to explore the solar system with this motorised model that rotates and revolves. The pretend sun's ultra bright 1,000 hour light and black base creates spectacular results in a darkened room while the unique star dome converts the unit into a planetarium. The sturdy plastic base of the solar system model indicates the correct placement of the plastic model planets. Requires 4 C batteries (not included). Suitable for ages 8+
The Playmobil Space Rocket with Launch Site is the ideal set for all budding astronomers. There is an adjustable maintenance platform to carry out any repairs and a friendly robot to help out with duties around the launch site. The set measures 22 x 72 x 28 cm when built and includes missiles and a satellite for communication. When the preparations are complete, get ready for the big count down to the extraordinary launch. The set comes complete with one Playmobil Space Rocket, two maintenance workers and a range of accessories including a robot.
Everything you ever wanted to know about space.
Take your child on a journey to space and beyond, they'll learn what space is and take a whirl around the sun, moon and stars. Packed with out-of-this-world pictures from NASA and ESA missions, kids will explore our universe as never before. Exclusive interviews, incredible facts, coupled with awesome photographic spreads will teach them everything they need to know about space. It's an incredible look at the universe in which we live – perfect for space enthusiasts and budding astronomers.
The nostalgic LEGO Spaceman Minifigures have been in space since 1978 and are now ready to light up your space! Press the chest to blast light from their feet in many directions! Supplied in either red, blue or white.
Come explore an incredible LEGO® universe in LEGO Space: Building the Future. Spaceships, orbital outposts, and new worlds come to life in this unique vision of the future, built completely from LEGO bricks.
Hape HAP-E3003 Discovery Spaceship and Lift Off Rocket
HAP-E3003 A highly-detailed spaceship and lift-off rocket that will provide fuel for any little imagination. Astronauts and aliens add to your little one's adventure into another galaxy. Includes 37 pieces and four levels. Crafted from birch, some easy assembly is required. Helps develop hand-eye coordination and stimulates the imagination. One of the impressively large Christmas presents in this list.
Professor Astro Cat's Frontiers of Space
Professor Astro Cat is the smartest cat in the alley. He's got a degree in just about every discipline under the sun! Speaking of the sun, he happens to be a specialist on that too, and Professor Astro Cat's Frontiers of Space will tell you everything that there could be to know about our star, our planet, our solar system, our galaxy, and our universe. The professor's made sure of that; he's a fastidious little feline! Professor Astro Cat's Frontiers of Space also explores topics such as gravity, extraterrestrial life, time, and many other fascinating subjects that will take you and your children on a journey to the very frontiers of space
This beautiful 22.8cm diameter globe displays a fascinating and detailed map of the Moon. Featuring major craters, mountain ranges, seas and moon landings. At night just switch the globe to illuminated mode and it lights up to become a magical room decoration and attractive night light. The Moon Globe is battery operated and requires 4 x C batteries. However, there is also the option to purchase an electrical adapter separately (not included) that you can plug into the globe and power it off mains electrics. Each box contains a specification to enable you to purchase such an adapter.
The Illuminated Moon Globe is a great learning tool for budding astronomers but also a great feature for any bedroom, living room or study. A truly unique globe.Brainstorm Toys is a range of fun, educational and interactive products that brings together a host of fascinating items. The aim of the Brainstorm Toys brand is not only to entertain children but also to inspire them to learn more about their environment.
This classic game of alien politics returns from the warp once more. It features 50 alien races, flare cards to boost their powers, 100 plastic ships, a host of premium components, and all-new tech cards that let players research and build extraordinary technological marvels.

Space flight is easier than ever with our Youth size Astronaut Helmet. This space helmet is a little smaller for younger kids to enjoy, but offers rich details, like a moving visor, NASA logo and appealing decorations that inspire kids to dream big. Quality and durability is number one, along with a great price. Recommended for Ages 3-10. Combine this with other space suit items in this list to make one of the best Christmas presents.
Create a kingdom in any corner of the house or garden with our magical pop-up structures for kids. Our charming tents have enough room for two or more children to play, featuring a flap front door for easy access that can be tied up, or velcro tabs to secure it closed. With the help of an adult our Kids Kingdom Pop-ups are easily assembled in minutes. The main structure pops apart with the addition of vertical supports creates a wonderful environment in which kids can let their imaginations run wild!
Each of our pop-up play tents has a UV protective coating applied to the roof section so it can safely be used to provide partial shade outdoors (shower proof only).H 130cm Dia 100cm 3+. Lots of fakes currently being shipped. Please check it has the Spirit of Air logo and that the rocket's has more than two fins as the fakers just copied the picture.
Zoom up rockets, slide down comets and get sucked into black holes as you travel to the moon in this fun, space themed Snakes and Ladders game.
he Playmobil Space Shuttle is an ideal transportation for any keen space lover. Make your journey through the milky way in this cool space craft which features a light up nozzle (3x AAA batteries required – not included) and a hidden cannon to defend the aircraft against unwanted threats. The set can be combined with 6195 – Space Rocket with Launch Site (sold separately) and comes complete with one Playmobil Space Shuttle, two Playmobil astronauts and accessories.
Build your own glow in the dark solar system planetarium model of 30cm span. Assemble, paint and highlight it with glow effects. Watch it glow in the dark as in space! Contains 3D Solar System planetarium model, brush, strip of paint pots and glow paint, stand with rotating arms, nine steel bars, sand paper, Saturn ring template and detailed instructions with bonus wall chart of the Solar System. Suitable for children aged eight and over. 4M specialise in quality arts and crafts kits, that encourage children to explore and enjoy traditional skills, whilst being creative and using their imaginations to have fun.
Carry the beauty of moonlight and project it anywhere with this convenient moon torch.;Turn on and point the torch at walls and ceilings at night or in dark rooms to see the moon.;Power the torch with 3 AG13 button batteries included with the torch.;All of the parts are made of safe, high quality materials.;This set is recommended for ages 5 years and up.;Challenge your child's imagination with 4M toys and kits.;4M educational toys cover a wide range of educational subjects and include science kits, arts and crafts kits, robotics kits, and more.;4M offers a wide range of toys and kits to let you build a clock, crochet a placemat, or turn your room into a planetarium–all in the name of making learning fun.
A countdown from twelve to one as a space shuttle awaits liftoff. Readers are invited to find hidden numbers on an illustrated activity page.
What is the sun made of? What causes night and day? Why does the moon change shape? Colourful collage….
In 1968, the Apollo Applications Program was created to look into science missions that could be performed with the surplus Apollo hardware. Much of the planning centered on the idea of a space station, which eventually spawned the Skylab program. Skylab was launched using a two-stage Saturn V, sometimes called a Saturn INT-21. It was the only launch not directly related to the Apollo lunar landing program. In May 1973 Skylab was launched using a two-stage Saturn V, sometimes called a Saturn INT-21.[2] It was the only launch not directly related to the Apollo lunar landing program. Three crews lived aboard Skylab from May 25, 1973 to February 8, 1974, with Skylab remaining in orbit until July 11, 1979.
Gear up like a real astronaut with this realistic backpack. Top compartment holds the Astronaut Suit or Boots. Bottom compartment stores your Astronaut Space Helmet. Side pockets hold extras like tools or snacks. 3-way harness system for a comfortable fit and realistic look. Machine washable. Little space explorers have fun heading out on make-believe missions with this realistic looking pack on their back. Combine this with other space suit items in this list to make one of the best Christmas presents.
A fun and brightly coloured puzzle with lots of talk about points.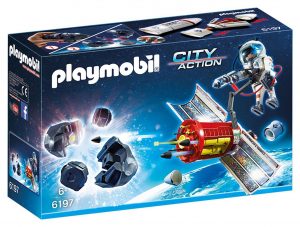 The Playmobil Satellite Meteoroid Laser is the mode of protection when in space. There is an astronaut out keeping watch preparing to shoot and destroy any oncoming meteoroids with the fully functional cannon. The set comes complete with one Playmobil astronaut and accessories.
Larger beginners telescope with 130mm mirror. Large aperture for little money with a collapsible tube. Great for the Moon, Planets and many deep sky objects and very easy to use and store. It is also very popular with beginners and more advanced stargazers. Perfect for all and one of the best Christmas presents. Read more about Beginners telescopes here
This authentically detailed model of the moon is designed to hang easily on your wall like a picture and the realistic moonscape shines moonlight just like the actual moon. Use the remote control to automatically scroll through twelve illuminated lunar phases or use the manual function which allows you to set your own moon to look just like the moon outside, from a new moon all the way to a full moon.
The moon also includes an auto shut-off mechanism to preserve battery life, making this item perfect for bedtime. It is really easy to set up and no mains electrics are required, it is powered by just 4 x AA batteries in the moon and 2 x AAA batteries in the remote. The moon's actual size is approximately 26cm in diameter and 6cm in depth. You can also read fascinating information about the moon in the colourful educational booklet included. This detailed moon makes a stunning room accessory or a reassuring night light. Brainstorm Toys is a range of fun, educational and interactive toys that brings together a host of fascinating items. The aim of Brainstorm Toys products is to entertain children but also inspire them to learn more about their environment.
Christmas Presents.This cleverly designed puzzle and will even have the adults wanting to play. The rocket is made from wood and comes apart into 5 pieces. The magnetic connectors on each piece encourage you to fit it back together. It has a movable propeller on the base and is just waiting for its first space adventure.
Create your own city scene with Siku Die-Cast Vehicles. The Low Loader has a very important job to do – deliver the rocket to the military base! Push the vehicle along and make sure it delivers the heavy load on time. An ideal gift for toy car fans aged three and up.
Official looking gloves with NASA patches. The gloves feature a textured palm for easy grip and an elastic inner cuff. Approximate age 4-7 years. Combine this with other space suit items in this list to make one of the best Christmas presents.
These Jr. Astronaut Space Boots have all the right stuff to complete your Jr. Astronaut's dream mission. Combine this with other space suit items in this list to make one of the best Christmas presents.
The long-awaited prequel to the other books in the Science Adventures with Max the Dog series, this instalment follows Max on his trip to the International Space Station where he shares in the adventures of astronaut life and helps save everyone from a potential disaster along the way. The book teaches children to see themselves and the planet in a new light and encourages readers to discover how they can help make the world a better place. Accompanying the story of how Max saves the day are numerous "Big Kid Box" sidebars that offer science facts and other pieces of fascinating information. Grown-ups and kids learn about science together with this fun and educational picture book.
It can be hard to explain and understand what lies beyond what you see in the beautiful night sky. Astronomy Lab for Kids teaches children the basics of outer space in 52 lessons that can be done with everyday items from around your house. Mini astronomers will learn about things such as the size and scale of planets using sandwich cookies and tennis balls, how to measure the speed of light with a flat candy bar and a microwave, how to make a simple telescope with magnifying glasses, and so much more! Children of all ages and experience levels can be guided by adults and will enjoy these engaging exercises.
The first launch of the "Shuttle Carrier Aircraft 905" – a converted Boeing 747-123 passenger aircraft – with the Space Shuttle "Enterprise" attached to its back took place in 1977. During five test flights the space shuttle was disconnected from the SCA 905 in order to test the flight and landing characteristics of the orbiter. The "Enterprise" landed of its own accord after its approach glide. By the end of the Space Shuttle program, the American National Aviation and Space Agency (NASA) had conducted more than 220 "piggy back missions" with the SCA 905. During its last missions, the "Discovery", the "Enterprise" and the "Endeavour" were transferred to various museums. On 17 March 2012 SCA 905 landed at Dulles International Airport with the Space Shuttle "Discovery". The Space Shuttle is now on permanent display in the "National Air and Space Museum" in Washington.
Christmas Presents: With the incredible Brainstorm Toys Remote Control Illuminated Solar System you can explore the wonders of the universe from the comfort of your own bedroom! This amazing Remote Controlled, motorised mobile has eight detailed planets that actually orbit the full sun. Simply assemble the planets onto the three independent orbit mechanisms on the sun and mount to the ceiling with the included fixings. Once mounted onto the ceiling the solar system is 85cm at it's widest point.
Use the remote control to operate the light up sun and the rotation of the planets around the sun. As the sun lights up it casts its glow on the detailed coloured planets. By day, an impressive and educational addition to any room and by night the illuminated sun is an attractive night light making it perfect for bedtime as the auto-shut off mechanism will automatically turn the sun and rotating planets off. Also, learn about the planets in the fascinating and educational colour booklet.
This product is intended to be mounted onto the ceiling and fixings are included for this installation. As it is battery operated there is no need to worry about connecting to the mains. Brainstorm Toys is a range of fun, educational and interactive toys that brings together a host of fascinating items. The aim of Brainstorm Toys branded products is to entertain children but also inspire them to learn more about their environment.
Christmas Presents: In the tradition of The Ultimate Construction Site Book, here's an oversized fact- and action-packed look at the amazing universe of outer space. Bursting with 60 flaps, pop-ups, pull tabs and movable parts, The Ultimate Book of Space provides a richly illustrated, hands-on exploration of the solar system, the Earth's place in our galaxy, as well as space travel, and much more! Sure to encourage curious young readers to venture deeper into space, this is a must-have volume in the library of any budding scientist.
1:144 scale. 97 parts. 437mm long Skill Level 4
This quality Dobsonian style telescope features a 76 mm aperture reflector optical tube. FirstScope is an ideal entry level astronomical telescope. It is very easy to observe with, the user simply navigates the night sky by moving the tube in the direction of their desired object, making the viewing experience a snap! The compact design makes it easy enough to take with you on your next outdoor adventure. FirstScope is also stylish enough to be a decorative fixture on your bookshelf or desk. One of the best Christmas Presents.
This is an artist-led picture book, which introduces young children to the vastness of the universe, how far away the moon is, what gravity is and the concept of space travel through a gentle and captivating story about an imaginative little girl. Combining full-colour illustrations with NASA photographs from the surface of the moon, this beautifully illustrated picture book takes young children on an amazing journey into outer space. The story's use of rhythmic text generates an evocative and friendly tale, taking children on a magical and informative journey.
What is the Sun made of? How did astronauts get to the Moon and what did they find there? For children beginning to read on their own, this book is an exciting introduction to space. Includes vivid, full-colour illustrations and photographs on every page, and easy-to-read text specially written with the help of a reading expert.
Thanks for checking out this list of Christmas Presents
We hope the above list of Christmas presents and gifts were of interest and they have helped you out with giving that little extra to your friends and loved ones this Christmas.
Interested in getting a telescope for Christmas. Check this great guide here.
Check out meteorwatch.org with more help with your Christmas presents and gift ideas soon.