Kids Books – Astronomy, Space and A Whole Lot More…
Kids Books For Christmas: Tis the season to be jolly and Christmas Presents are foremost on our minds. Kids Books have always been the perfect Christmas gift and a gift for all seasons.
For Christmas this year, the Meteorwatch team have put together a fine collection of kids books which are out of this world. There are books to please stargazers and books to impress wannabe astronauts and more! It can be hard work thinking about what Christmas presents to buy friends and loved ones. So we made this kiss book list to help you.
There is also a more general list of Space and Astronomy books here  You can also check out Space Gift Ideas for kids here.
Pour a glass of festive cheer and enjoy the list of Kids books here:
Please read on for some great kids book ideas for Christmas. There are no spammy pop-ups, spammy articles, or the need to click through endless pages. Just scroll down the list effortlessly.
Images and descriptions credit: Amazon.co.uk

A Cat's Guide to the Night Sky:
If you look up at the sky on a dark night, what do you see? There's a whole universe staring back at you. In the company of Felicity the cat discover the phases of the moon, the constellations and how to spot the Northern Lights and the Milky Way.
This beautiful, fun book will introduce you to the beauty of the night sky and show you the stars like you've never seen them before.
Astronomy for Kids: How to Explore Outer Space with Binoculars, a Telescope, or Just Your Eyes!
"No matter how many times you've orbited the Sun, Astronomy for Kids is really for kids of all ages. Dr. Betts shows you how to become an astronomer–an observer of the stars. With this book, you can know the cosmos and your place within it. Read on, walk out, and look up!"–Bill Nye, science educator, author, and CEO of The Planetary Society
One of the coolest things about outer space is that anyone can explore it. All you have to do is go outside and look up! Using plain sight, binoculars, or a small telescope, Astronomy for Kids shows stargazers how easy it is to explore space, just by stepping outside.
With this book as their guide to the northern hemisphere, kids will learn to find and name amazing objects in the night sky. Fully illustrated with fun facts throughout, kids can point out sights to friends and family, saying things like, "that's Jupiter," and, "those stars are the constellation Cygnus the Swan," and maybe even, "that group of stars doesn't have a name but I think it looks like my dog getting belly rubs."
From the Milky Way Galaxy to Mars to the Moon's craters and mountains–Astronomy for Kids helps young astronomers discover important parts of our solar system, with:
30 sights for the naked eye (yes, 30!) objects to see without any equipment, including Orion's Belt, the Big Dipper, Mars, and even the International Space Station.
25 sights magnified with binoculars or a basic telescope to make objects in the sky easier to find and explore. Plus, buying tips and usage tricks to get the most out of astronomy equipment.
Clear illustrations that show kids where to look and what they can expect to see.
Like all big things, outer space is something you have to see to believe. Astronomy for Kids teaches kids that planets, shooting stars, constellations, and meteor showers are not only in books–but right above them.
Packed with crystal-clear visuals, easy-to-read maps, and top tips, you'll have no problems navigating the starry night with this indispensable guide. Discover the most important constellations visible in the Northern Hemisphere, read the amazing stories behind each constellation, recognise the constellations of the zodiac, and experience the Milky Way as never before. Learn how to spot planets, galaxies, and nebulas in our Universe, as mind-blowing patterns in the sky are revealed in unprecedented detail.
What is life like on the International Space Station? Can we survive on Mars? Why is Pluto no longer a planet? Just how big is the universe anyway? Space Atlas answers all these questions and more while exploring the far reaches of space, from our own planet to neutron stars, thousands of light years away.
Following the format of an atlas, Space Atlas showcases significant locations in space which are explored in-depth with stunning illustrations, interesting fact files, diagrams and information on scientific achievements.
My First Book of Planets: All about the Solar System for Kids
Get even the smallest astronomer excited for the big universe of space, from the bright and burning sun to our own blue Earth to ice-capped Pluto and every planet in between. With this book, kids will explore the entire solar system through incredible photos and fascinating facts on what makes each planet so special–like their size, distance from the sun, what the surface is like, how many moons they have, and more!
The Astronaut Selection Test Book: Do You Have What it Takes for Space?
Have YOU got what it takes to be an astronaut?
This book will help readers of all ages find out. Featuring 100 real astronaut tests and exercises from the European Space Agency's rigorous selection process, ranging from easy to fiendishly hard, The Astronaut Selection Test Book goes where no puzzle book has gone before.
Including puzzles and tests on:
· visual perception and logic
· mental arithmetic and concentration
· psychological readiness
· teamwork and leadership
· survival, physical and medical skills
· foreign languages (every astronaut has to know Russian!)
and much more, this richly illustrated book draws on Tim Peake's first-hand experience of applying to be an astronaut in 2008, when he and five others were chosen – out of over 8,000 applications!
We've all dreamed of being an astronaut, though of the estimated 100 billion people who have ever lived, only 557 people have travelled to space. But with this unprecedented look into real astronaut selection, you might just find out your dreams can become reality…
_________________________
HOUSTON, WE HAVE A PROBLEM SOLVER…
_________________________
Tim Peake and the ESA will receive no royalties from this book; instead, they will be donated to the Prince's Trust charity.
Little Kids First Big Book of Space (First Big Book)
This beautiful book is the latest addition to the National Geographic Little Kids First Big Book series. These colourful pages will introduce young children to the wonders of space, with colourful illustrations by David Aguilar and simple text that is perfect for beginning readers or for reading aloud.
The book will explain basic concepts of space, beginning with what is most familiar to kids and expanding out into the universe.
Chapters include:
• Chapter 1 focuses on the Earth, moon, and sun.
• Chapter 2 introduces kids to the other planets in our solar system.
• Chapter 3 explains other objects in our solar system, such as dwarf planets, comets, and asteroid belts.
• Chapter 4 voyages even farther afield, touching on concepts such as the universe, the Milky Way, stars, galaxies, and black holes.
• The last chapter delves into space exploration: humans on the moon, spaceships, the International Space Station, etc.
Do You Know About Space?: Amazing Answers to more than 200 Awesome Questions!
Amazing answers to more than 200 awesome space questions! Do You Know About Space? takes the reader on a galactic journey to answer all the probing questions children ask about space. What is a shooting star? Why is Jupiter stripy? Is anyone else out there?
Featuring the most amazing space pictures from NASA, as well as the latest space news, this is a book perfect for young space fans as well as children new to the subject. Do You Know About Space? covers the Solar System, stars, galaxies, space exploration, and much more! The book has clear and simple text, so information is easily accessible and utterly fascinating for children aged 6 to 8 years old.
Featuring answers to more than 200 questions, Do You Know About Space? is the ideal book for kids who want to learn about the Universe.
Before the Big Bang there was NOTHING AT ALL.
No galaxies, no space, no light and no sound.
Then suddenly, 13.8 billion years ago, IT ALL BEGAN…
This beautiful follow-up to The Story of Life brings to life the story of our universe for younger children. Travel back in time to the Big Bang, see galaxies and stars form, watch the birth of our planet and how life begins, join the first man on the moon, and wonder what mysteries are still waiting to be discovered
National Geographic Kids Ultimate Space Atlas (Atlas )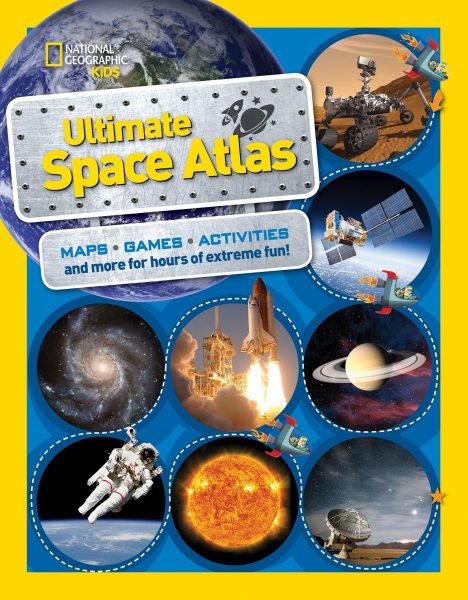 Blast into space to explore our solar system and beyond. This out-of-this-world atlas takes readers through maps of the solar system, the Milky Way, and deep space, giving them a close look at and locations of planets, supernovas, and other universes
Sky maps will help kids spot these objects in the night sky and maps of planets and our solar system give the kind of incredible detail that National Geographic is known for. It's the perfect book for space fans and budding astronauts.
2022 Guide to the Night Sky: A month-by-month guide to exploring the skies above Britain and Ireland (Royal Observatory Greenwich)
The ideal gift for all amateur and seasoned astronomers.
"This is a great guide to the night sky at a great price"Astronomy Now
"A handy and straightforward guide … attractive little booklet" British Astronomical Association's 'Journal'
"an ideal Christmas stocking-filler" The Observatory
From the Number One Astronomy publisher, the bestselling stargazing handbook to the planets, stars and constellations visible from the northern hemisphere. 6 pages for each month covering January–December 2022.
This practical guidebook is an easy introduction to astronomy and a useful reference for seasoned stargazers.
Designed for Britain and Ireland but usable anywhere in the world between 40°N and 60°N, covering most of Europe, southern Canada and the northern United States.
Advice on where to start looking and a map of dark sky sites to avoid light pollution.
Charts for the circumpolar and seasonal constellations.
Easy-to-use star charts for each month with descriptions of objects and events to look for in 2022.
Positions of the moon, visible planets and eclipses.
Includes a section on comets and a detailed map of the moon.
Now in three editions: Britain and Ireland; North America; Southern Hemisphere.
Written and illustrated by astronomical experts, Storm Dunlop and Wil Tirion, and approved by the astronomers of the Royal Observatory Greenwich.
My First Book of Quantum Physics Hardcover
The world of quantum physics is an amazing place, where quantum particles can do weird and wonderful things, acting totally unlike the objects we experience in day-to-day life. How can atoms exist in two places at once? And just how can a cat be dead and alive at the same time? Find out more with this entertaining illustrated guide to the fascinating, mysterious world of quantum physics.
My First Book of Relativity Hardcover
It's never too early to start exploring big ideas. This companion volume to 'My First Book of Quantum Physics' introduces complex science to children through bright illustrations by Sheddad Kaid-Salah Ferron and amusing text by Eduard Altarriba.
THE DAY Mars Disappeared: Story about SPACE and Solar System
This interesting and kind story is about Space and Mars. Mars is one of the planets in our Solar System, who thought there was nothing special about him. He considered that all planets had something unique in their nature and they were all beautiful except him. However, as all other planets along with the Sun were friendly and loved Mars, they pointed out to Mars's uniqueness. This book about Solar System will not only become your kid's beloved one among all other kids' books he/she has but will also teach him/her the names of the planets and their peculiarities.
The Science Book: Big Ideas Simply Explained
Exploring more than 80 of the world's most scientific theories and big ideas across the fields of physics, chemistry, biology, astronomy, geology, and maths, this book offers a fascinating look at the history of science.
Discover how Galileo worked out his scientific theories of motion and inertia, why Isaac Newton gets the credit for them, and what the discovery of DNA meant.
All the big scientific ideas are brought to life with quirky graphics, pithy quotes and step-by-step "mind maps" – from evolution and continental drift to black holes and genetic engineering – using eye-catching artworks to show how the ideas of famous scientists have affected our understanding of the world.
Whether you are a science student, a historian, or just have an interest in scientific ideas, The Science Book is a perfect way to explore this fascinating subject.
Sun, Moon and Stars (Usborne Beginners)
What is the Sun made of? How did astronauts get to the Moon and what did they find there? For children beginning to read on their own, books like this are an exciting introduction to space. Includes vivid, full colour illustrations and photographs on every page, and easy-to-read text specially written with the help of a reading expert.
Turn Left at Orion: Hundreds of Night Sky Objects to See in a Home Telescope – and How to Find Them
With over 100,000 copies sold since first publication, this is one of the most popular astronomy books of all time. It is a unique guide book to the night sky, providing all the information you need to observe a whole host of celestial objects. With a new spiral binding, this edition is even easier to use outdoors at the telescope and is the ideal beginner's book. Keeping its distinct one-object-per-spread format, this edition is also designed for Dobsonian telescopes, as well as for smaller reflectors and refractors, and covers Southern hemisphere objects in more detail. Large-format eyepiece views, positioned side-by-side, show objects exactly as they are seen through a telescope, and with improved directions, updated tables of astronomical information and an expanded night-by-night Moon section, it has never been easier to explore the night sky on your own. Many additional resources are available on the accompanying website, www.cambridge.org/turnleft.
Goodnight Spaceman (Goodnight 6)
Inspired by ESA astronaut Tim Peake and his sons, and featuring an introduction from Tim, this is the perfect bedtime book!
Two space-mad little boys get ready for bed and say goodnight to their toy rockets, launch pads and planet mobiles, before being whisked away into space on an adventure beyond their wildest dreams . .
i-SPY In the night sky: What can you spot? (Collins Michelin i-SPY Guides)
Search for over 140 sights in the night sky with this i-SPY guide. This fun activity book encourages kids to look above them, from stars and constellations to the moon and eclipses, in search of i-SPY points. A fun, interactive way to encourage curious children to learn about the world around them
What can you spot? Get i-SPYing with these features:
• Vibrant colour coded photographs
• Tips for budding astrologers on constellations and how eclipses happen
• Points to score from common constellations like The Plough (10 points) to top spots such as comet (50 points)
Children love these fun and fascinating i-SPY activity books – discover over 30 other i-SPY guides in the series!
In a convenient folded format, Philip's Moon Map is a superbly detailed, large-format map of the near (visible) side of the Moon. Specially drawn for Philip's by Dr John Murray, an expert on the lunar surface, the map is not only a highly accurate and clear representation of the Moon but is also a practical guide for lunar observers.
More than 500 physical features – craters, seas, mountain ranges, peaks, valleys and rilles (elongated depressions) – are named and indexed, and the landing sites of unmanned and manned spacecraft are also marked. The observer can thus readily identify objects seen through binoculars or a telescope, or pick targets for a programme of observation.
The accompanying text is a practical guide to Moonwatching, which explains how to use the map and highlights the most interesting lunar features. Close-up images of some of these objects show what the observer can expect to see. Also included are photographs of the Moon at each daily stage and a smaller map of the far side, as revealed by satellites. Guidelines on drawing or photographing the Moon are also included.
The International Space Station (Let's Read-&-find-out Science)
The International Space Station races through space at 17,500 miles per hour. How do people live there? What may they discover? Find out the story of the twenty-first century's great scientific adventure. Outstanding Science Trade Books for Children 2001–selected by Natn'l Science Tchrs Assoc. & Child. Bk Cncl. and Booklist "Top 10 Science Books for Children" 2000
Philip's 2022 Stargazing Month-by-Month Guide to the Night Sky Britain & Ireland
Discover the latest in stargazing with the new and definitive guide to the night sky.
Whether you're a seasoned astronomer or just starting out, Philip's Stargazing 2022 is the only book you'll need. Compiled by experts and specially designed for use in Britain and Ireland, Stargazing 2022 acts as a handily illustrated and comprehensive companion.
The Usborne Official Astronaut's Handbook
Discover how you become an astronaut, the training you must undertake, how you travel into space and what you do when you're up there. With a foreword from ESA astronaut Tim Peake, the first British astronaut to embark on a mission to the International Space Station. Published in association with the UK Space Agency.
Facts from Space!: From Super-Secret Spacecraft to Volcanoes in Outer Space, Extraterrestrial Facts to Blow Your Mind!
From the sun's super-hot core to the many moons of Neptune, we're traveling to the far reaches of our solar system and beyond! Astronomer Dean Regas presents Facts from Space!–an exciting education on everything outside our atmosphere. Inside, you'll discover space facts and celestial trivia, including:
A day on Venus is longer than its year.
Early space missions ejected human waste into space, where it froze into intricate crystals that still float in space today.
After being in space, some astronauts returned to Earth up to 2 inches taller than when they left.
The stars in the Big Dipper are shifting among themselves and will look like a "Big Spatula" by the year 75,000.
And more!
Packed with fascinating information, it's a stellar read for sci-fi fans and at-home astronomers alike!
Knowledge Encyclopedia Space!: The Universe as You've Never Seen it Before
This ultimate space encyclopedia for children makes learning at home fun and is designed to blow your mind with incredible CGI images, from the deep darkness of black holes to the spectacular sparkle of supernovas.
The many mysteries of the Universe are explored in breathtaking detail, including in-depth cross-sections and lifelike cutaways to showcase the planets, stars, moons, and space stations. Featuring absolutely everything under the Sun, this exciting visual reference guide is your guaranteed one-stop shop for space.
Bursting with up-to-date facts, infographics, and the latest NASA images, Knowledge Encyclopedia Space! is sure to enthral and inform readers of all ages.
Big Book of Stars and Planets (Big Book)
Children can explore the wonders of space in these incredible picture books with giant fold-out pages full of fascinating facts to satisfy the curiosity of every young space enthusiast. From the Sun and the planets in our Solar System to massive stars and vast galaxies and lots, lots more, there's a whole universe to discover.
Big Book of Rockets and Spacecraft (Big Book)
Open the giant fold-out pages of this books to discover the powerful rockets and spacecraft that explore outer space. From early rockets and Moon missions to space stations and probes, learn what it takes to blast off from Earth and even live in space. The oversized pages show magnificent spacecraft and rockets to scale, up-close and in detail.
This classic star atlas is ideal for both beginning astronomers and more experienced observers worldwide. The clear, full-color maps show stars, clusters and galaxies visible with binoculars or a small telescope. The atlas also features constellation boundaries and the Milky Way, and lists objects that are interesting to observe. This new edition features a clearer map of the Moon's surface, showing craters and features; a second Moon map, mirror reversed for users of telescopes with star diagonals; enhanced index charts showing the constellations more clearly; and a new data table listing stars hosting planetary systems. It is now spiral bound, making it ideal for use at the telescope.
Where's Wally? In Outer Space: Activity Book
Have fun solving crazy conundrums and amazing activities that are out of this world with Wally and friends! Play tangle line teasers, find your way out of a space race maze, unscramble muddled up words, crack alien codes, match and spot the differences in busy picture puzzles, get creative by colouring in, complete a planet hop game and much, much more! Can you also find Wally's super special star? There are over 100 crazy cosmic stickers and lots of extra things to find and do!
Professor Astro Cat's Frontiers of Space
Professor Astro Cat is the smartest cat in the alley. He's got a degree in just about every discipline under the sun!
Speaking of the sun, he happens to be specialist on that too, and Professor Astro Cat's Frontiers of Space will tell you everything that there could be to know about our star, our planet, our solar system, our galaxy, and our universe. The professor's made sure of that; he's a fastidious little feline!
Professor Astro Cat's Frontiers of Space also explores topics such as gravity, extraterrestrial life, time, and many other fascinating subjects that will take you and your children on a journey to the very frontiers of space!
Philip's Astronomy Starter Pack
A new edition of the exciting Philip's Astronomy Starter Pack, suitable for use in the Northern Hemisphere, containing three essential items to introduce the beginner to the fascinating hobby of astronomy: a 'glow-in-the-dark' planisphere, an 80-page paperback book about the stars and planets, and a colourful wall poster of the Solar System.
Philip's Glow-in-the-Dark Planisphere: This planisphere has been specially made so that, after being held under a bright light, the stars and the names and shapes of the constellations will glow in the dark for a period. It is both a fun and practical starfinder for identifying the stars and constellations visible on any night of the year from the UK, Northern Europe, Northern USA and Canada (51.5 degrees North); the star map is drawn by the well-known celestial cartographer Wil Tirion. A sheet explaining how to use the planisphere is included in the pack.
Philip's Exploring Stars and Planets: A colourful and entertaining introduction to the exciting world of astronomy, this 80-page paperback is illustrated with more than 200 colour photographs, artworks and maps, as the author Ian Ridpath describes the latest developments in the fast-moving fields of space exploration and astronomy. Concise chapters introduce the Sun, the Earth and all the other planets in our Solar System. Then, moving further into space, the author examines the stars and galaxies, and explores the origin of the Universe.
Philip's Solar System Poster: A large attractive folded wall chart (580 x 870mm) illustrating the planets and other bodies in the Solar System, with informative text and tables by Ian Ridpath.
Philip's Planisphere (Latitude 51.5 North): For use in Britain and Ireland, Northern Europe, Northern USA and Canada
Invaluable for both beginners and advanced observers, Philip's Planisphere (Latitude 51.5 North) is a practical hour-by-hour tracker of the stars and constellations, designed for use anywhere in Britain and Ireland, Northern Europe, Northern USA and Canada. Turn the oval panel to the required date and time to reveal the whole sky visible from your location.The map, by the well-known celestial cartographer Wil Tirion, shows stars down to magnitude 5, plus several deep-sky objects, such as the Pleiades, the Andromeda Galaxy (M31) and the Orion Nebula (M42). Because the planets move round the Sun, their positions in the sky are constantly changing and they cannot be marked permanently on the map; however, the back of the planisphere has tables giving the positions of Venus, Mars, Jupiter and Saturn for every month until 2020.The planisphere is supplied in a full-colour wallet that contains illustrated step-by-step instructions for how to use the planisphere, how to locate planets, and how to work out the time of sunrise or sunset for any day of the year. It explains all the details that can be seen on the map – the magnitudes of stars, the ecliptic and the celestial coordinates. In addition, the section 'Exploring the skies, season by season' introduces the novice astronomer to the principal celestial objects visible at different times of the year. Major constellations are used as signposts to navigate the night sky, locating hard-to-find stars and some fascinating deep-sky objects. The movement of the stars is also explained